For many years, Henley-in-Arden School has been home to a successful equestrian team who compete in events run by the National School Equestrian Association (NSEA). In the past the team represented their county in various disciplines, and also competed at the prestigious NSEA championships. The team are made up of a broad range of students of all ages and abilities who all show a keen interest in the equestrian sports. They are hoping to compete at all levels in Dressage, Showjumping, Eventing and Style Jumping with the ultimate aim of qualifying for the county finals in April, and the NSEA Championships in October. They are also hoping to enjoy attending training sessions, local shows and fun rides together as a team.  This page has been set up to inform team members and the public of upcoming events, but also to celebrate the successes of this hardworking team of young people.
If you would like to know more about the team, or perhaps would like to offer your support in any way, please contact Mrs S Campton – Teacher of PE, who works closely with Miss J Roberts, the team's external coach and champion.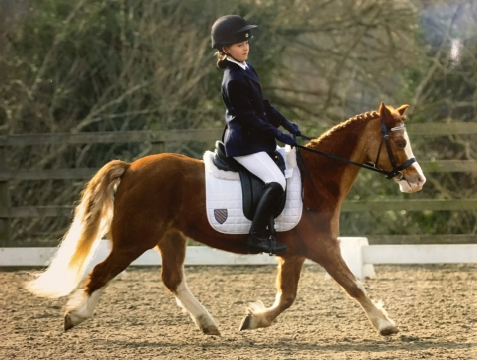 Showjumping at Allen's Hill 31st March
The Henley-in-Arden School Equestrian Team showed they were a force to be reckoned with when 10 members travelled to Allen's Hill Equestrian Centre in Pershore, Worcestershire. The day kicked off with Ned Campbell riding a clear round in the 50cm, earning him a 2nd place rosette. Georgie Campbell also rode two courageous rounds on a tricky pony in the 50cm and 60cm classes but was unfortunately eliminated. Jess Chapman had a very successful day achieving two fourth place rosettes in the 70cm and 75cm classes, and was awarded the Most Stylish Rider. Teagan Hill rode a lovely clear round on her pony Tom to come 6th in the 70cm. Ned, Jess and Teagan have all qualified as individuals for the Grass Roots Regional Finals in December.
Henley entered four riders into the 70cm County Challenge Qualifier. Charlie Kingston-Cox worked hard to jump clear until her pony tried to leave the arena, resulting in an elimination. Leyla Wheelwright knocked a pole, picking up 4 faults, and Eleanor Jackson jumped the wrong fence! However, they learnt from their earlier mistakes to become the highest placed Warwickshire team in the 80cm class! With the addition of Millie Wharton and Suzannah Walters, the team of four riders have qualified to represent Warwickshire at the NSEA County Championships at the end of April. Henley also entered a team into the 90cm class consisting of Millie Wharton, Georgie Beavis and Suzannah Walters. They all rode stylish rounds but were not quite fast enough to be placed. In one of the final classes of the day, Georgie Beavis represented the school over 1m show jumps and rode a fantastic round to achieve a 2nd place. Overall, it was a very successful day for the Henley team. They even received a wonderful letter from the organisers praising their horsemanship and turnout.
Suzannah Walters (Captain)
Pop-Up Dressage Series – March
The NSEA have recently launched a new event for riders to compete in from the comfort of their own home… or stable yard! Riders simply film themselves riding through a dressage test and upload their clip to the school YouTube channel. In March, Lauren Calcutt and Millie Wharton both entered into the Pop-Up Dressage Series. In Class 1 (Intro C), Lauren rode a lovely test on Jay's Rascal to achieve an 11th place and a score of 51.52%. In Class 2 (Prelim 13) Millie entered her pony, Mary Jane of Pickets Pride, and achieved an excellent score of 57.77% which equated to 12th place. She scored just ahead of Lauren's second entry on Chester. Lauren improved upon her previous score to achieve 57.08% and 13th place. Well done both girls for representing the school in a competition against riders from all over the country.
Sunday 13th March – Showjumping at King's Equestrian Centre, Bromyard.
Henley entered individual competitors into the 70cm and 90cm classes, and a team into the 80cm class. Both Honor Yeomans and Leyla Wheelwright competed in the 70cm class. Leyla rode a double clear in a fast time but was beaten to a rosette by just a couple of seconds. Honor Yeomans worked hard in her first competition representing the school, but was unfortunately eliminated after 3 refusals. In the 80cm class, Leyla had an unlucky pole down but Millie Wharton rode a clean double clear and managed to end up a very impressive 6th out of a huge class of 58 entries. Jess Chapman rode two brave rounds in both the 80cm and 90cm classes but was unfortunately eliminated as the colourful show-jumps proved quite intimidating for her young pony. Well done everyone for making the long journey to represent your school. Next, we will be aiming to get a team out to Allen's Hill on 31st March (showjumping) and also to Weston Lawns on 2nd April (dressage and jumping with style).
Congratulations should also go to Georgie Beavis who rode in her first British Eventing competition of 2016 earlier this month. She jumped clear in both the showjumping and the cross country phases, and these, combined with her dressage score, meant Georgie finished 16th. Well done, Georgie!